How I streamlined the email marketing for an ed-tech startup
Every marketer and startup owner recognizes that email marketing is a critical component of running a successful business.
So this is an experience I had while streamlining email marketing for an ed-tech startup based in India.
About the startup
This startup specializes in preparing recent graduates or those with prior experience in software engineering for positions in top product companies. They have a curriculum that teaches students how to prepare for coding interviews for a top product company.
It is a startup in its early stages and has not sought funding from a venture capital firm or anything similar. They are completely self-sufficient, which explains why they have a limited marketing budget.
They were bootstrapped and initially they were working offline, teaching students at the college. In the year 2020, they launched their online portal and hired me as a digital marketer. As they wanted to build an in-house marketing team.
They tried a digital marketing agency before hiring me, but it did not work. They were dissatisfied with the results.
This agency they hired was burning so much of their cash and was doing only PPC ads. No email, no SEO nothing else.
Initially, they sent emails manually for live class reminders, other notifications, and log newsletters, among other things.
The problem with the manual approach was that it was not scalable or measurable. Obviously, there were chances of errors as well, as they would not be able to frame the right message when it came to promotional emails, transactional emails, notifications, reminders, and so on.
So, what were my challenges?
I had the following challenges while working on this project. I had to write email copies for each email, including the appropriate subject lines that did not irritate the recipient, in addition to planning the flow.
Implementing the automated newsletter emails
I had to design and implement email automation where an email should be sent every week containing all of the blogs and videos that were posted that week and this email should be sent on either Friday or Saturday. This is a weekly newsletter that I had to design and implement over there.
Email automation for free trial users
We had a 7-day free trial where users could explore all of the premium content for seven days, so we had to send them different emails and gently nudge them to upgrade their plan during that time.
Email automation for experied free trial users
If the customer has not upgraded their plan after the 7-day free trial, we should put them in a different flow and send them emails with industry news, interview questions, and interview opportunities, as well as urging them to upgrade their plan.
Bulding an landing page to collect the emails for webinar
Whenever a new webinar was scheduled, I had to create a landing page to gather registered users' email addresses, enter them into Mailerlite, and send them registration confirmation and webinar reminder emails. All of these should be carried out automatically.
How did I go about doing this?
First, I needed to figure out which email service provider software I should use. Because I had a few options on my lists, such as mailerlite, Mailchimp, and Constant Contact, I chose mailerlite.
Mailerlite is a free email service provider or email automation software that allows you to construct landing pages, pop-up forms, double opt-in emails, drip emails, A/B testing, and more. They also offer free credits to people interested in trying out the software.
I had a great time building all those workflows and email copies, as well as a/b testing all those email headlines. I had previously worked in email marketing, but this was my first time working for a startup that specializes in courses and online training.
What was the outcome?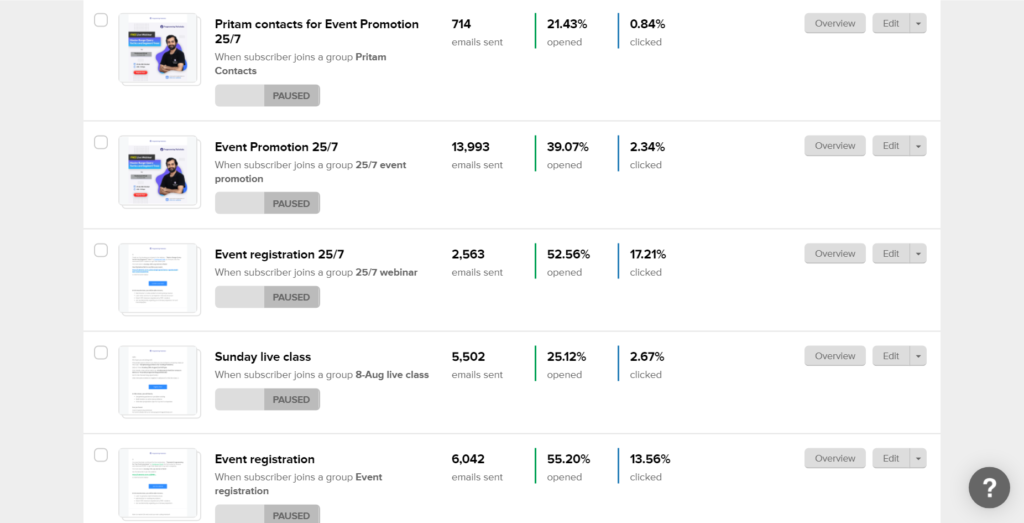 As a result, all of these efforts assist me in producing a fantastic result. I entirely automated the startup's email marketing and was able to fix the problem they had with the manual technique with automated emails. In addition, I had a high email open rate, a low spam rate, and a high click-through rate.
To be specific I was able to achieve a more than 24% of open rate, an average of 7% of click-through rate, 52 unsubscribers & very few spam reports.
Mailchimp provides flexibility in terms of overall email marketing. While we are transitioning from mailerlite to Mailchimp, some of our operations are still active in mailerlite and I will continue using mailerlite.