5 Free Email Marketing Software for Small Businesses
In this blog post, we'll look at the 5 best email marketing software for small businesses which works well and are affordable.
Email marketing is a widely used marketing channel. Every company should take advantage of the power of email marketing.
Email is the quickest way to reach your target audience or existing customers. It is the most efficient and direct method of communication.
So, if you want to add email marketing to your marketing arsenal, this blog post is for you.
Email marketing software is essential for any size business. Take the time to select the best software for your requirements—here are seven online email marketing solutions to consider.
MailerLite is a lightweight but powerful email service. With it, you can send personalized emails, set up autoresponders, keep track of opens/clicks, create branded templates & more.
It can assist you in creating customized emails, segmenting your audience, and personalizing them based on the data you collect.
Because it includes advanced features such as an autoresponder, it can also provide you with valuable insights for future projects.
Main Features of mailerlite
It has all the necessary features, such as
Drag & drop editor
Pre-built templates
Website & Landing page builder
Embedded forms & popups.
Email automation, segmentation, and personalization.
AB testing, auto resent, and RSS campaigns.
Campaign reporting with click maps
Integrations for eCommerce business.
Does mailerlite have a free plan?
Yes, mailerLite offers a 14-day free trial period during which you can utilize all of their premium features. After 14 days, you can continue to use the app but with limited functionality.
You can have 1000 subscribers and send 12000 emails per month with the mailer lite permanently free plan. This is beneficial to small firms and solopreneurs. The only drawback is that mailerlite logo will appear at the bottom of your email.
What are the premium plans of mailerlite?
They offer a variety of plans from which you may choose based on your need.
Here are a few of the most common plans:

What type of support does mailerlite provide?
They offer live chat help 24 hours a day, 7 days a week. The support team is extremely knowledgeable about the platform and responds quickly.
What type of Integration does mailerlite provide?
Mailerlite allows you to connect your account to a variety of popular web services. eCommerce platforms, automation, CRM software, WordPress integration, project management software, and custom API integration are just some options available.
Does mailerlite have a mobile app?
Only the iOS version of mailerlite comes with a mobile app. They still don't have an app for Android.
Pro-tip: You can learn complete email marketing practically and also how to build email strategy from their free academy.
Recommended read: My review of mailerlite email marketing academy.
CLICK HERE to start the free trial of mailerlite.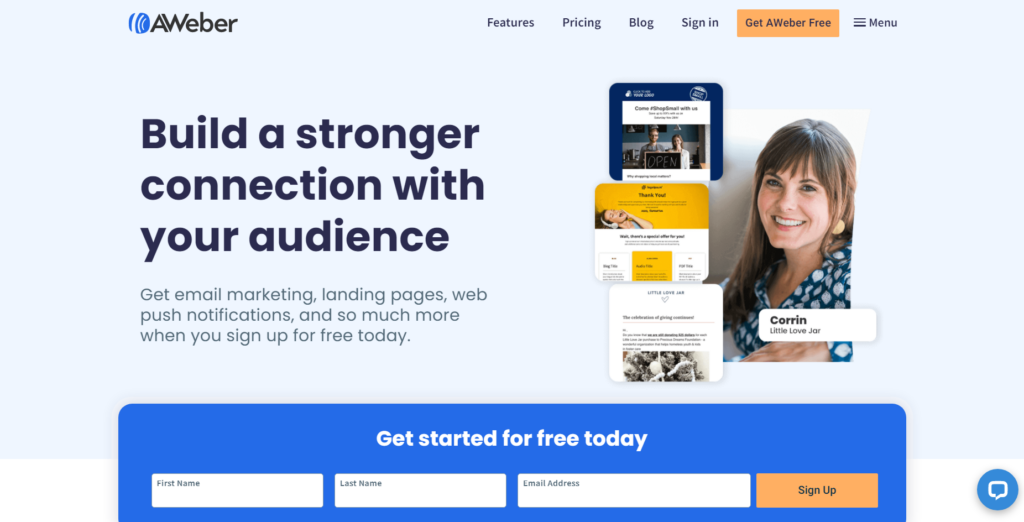 One of the oldest email marketing service companies is Aweber. Email marketing, landing page design, online push notifications, and more services are available.
AWeber is a great way to start an email marketing campaign. If you haven't tried email marketing before, AWeber is a good starting point.
Aweber is a robust email marketing platform that allows you to send out newsletters, announcements, broadcasts, and any other type of electronic message to the public.
The most straightforward way to think about it is as an "email delivery platform."
Main features of Aweber email service
Design with Canva – Canva integrated
Landing page builder
Web push notifications
Email Automation
Segmentation
Auto-newsletters
Easy-to-use eCommerce landing pages
Analytics tool
Pro-tip: If you have an account with another email marketing provider, they will move your templates, tags, campaigns, sign-up forms, landing pages, and more to AWeber.
Does Aweber have a free plan?
Yes, Aweber, like every other email service provider on this list, offers an unlimited free plan. You receive 500 subscribers and can send up to 3000 emails with the free plan.
What are the paid plans of Aweber?
The Pro plan starts at $16 per month. You can choose the number of subscribers and the billing plan (yearly, quarterly, or monthly) in the pro plan.
What type of support does Aweber provide?
They have a knowledge base to help you with your problems. You can also reach out to them directly via their toll-free phone number.
What type of Integration does AWeber provide?
To get the most out of your email marketing campaign, AWeber allows you to connect your account to social media, landing pages, shopping carts, and many more connections.
Does AWeber have a mobile app?
AWeber does have a smartphone app. You can use your iPhone or Android mobile to monitor your email marketing statistics. It gives you up-to-the-minute analytics on scheduled broadcasts, delivered messages, subscriber behavior, and follow-up messages, so you can get a holistic perspective of your campaign.
CLICK HERE to get started with Aweber.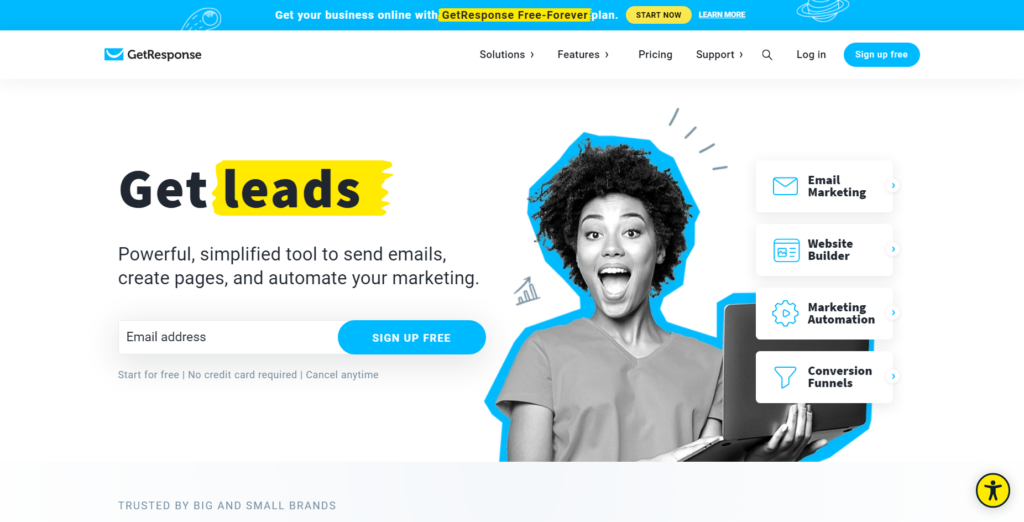 GetResponse is a legit email marketing company that provides great services and products. As a well established and trusted business, it has plenty of options to choose from.
GetResponse's extensive set of features, tools, and templates enable you to nurture prospects from the moment they contact your company until they make a purchase or become a long-term customer.
There are a lot of email marketing solutions out there, but GetResponse had exactly what I needed at a price I can afford.
This is particularly useful for small business owners who are searching for tools to assist them with social media management, website analytics, landing page building, and other tasks in addition to email marketing.
Main features of GetResponse email service
Design with Canva without leaving your AWeber account.
Make professional-looking emails in seconds with the aid of templates.
Ease of automation – Create lasting relationships with "set it and forget it" campaigns.
Emails, landing pages, online push alerts, forms, funnels, and much more are all available through AWeber.
Easy email segmentation allows you to target messages more effectively.
Tags – Use tags to organize your subscribers, so you can deliver targeted emails to the proper people.
With a large selection of high-quality free stock photos, you can make your emails stand out.
Using a collection of pre-built reports and analytics, you can gain intelligent insights.
Does GetResponse have a free plan?
They also offer a 14-day free trial period with no credit card required.
What are the paid plans of GetResponse?
Their lowest price plan is $19.95 per month.
What are the paid plans of GetResponse?
Here are paid plans of GetResponse.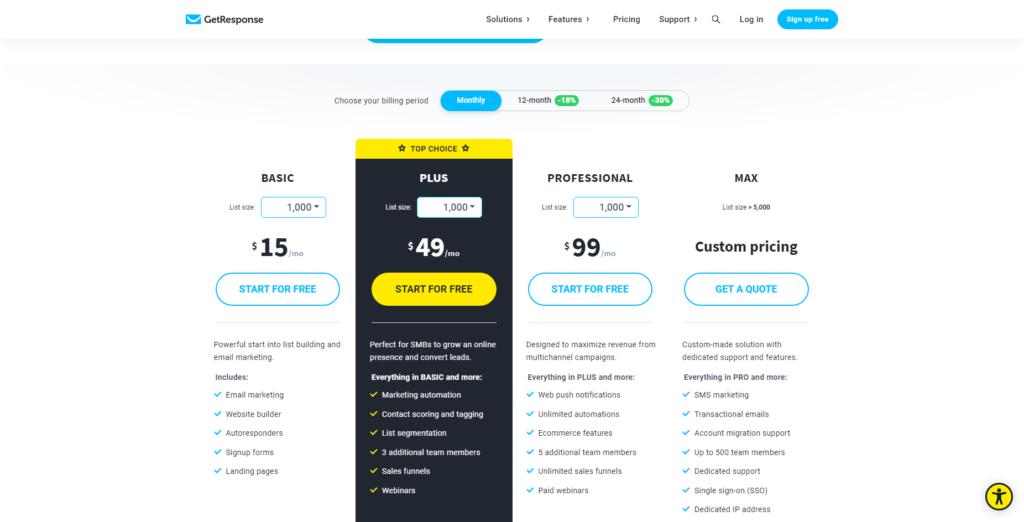 Pro-tip: Try any of their plan free for 30 days. No credit card is required.
What type of Integration does GetResponse provide?
Find and link your favorite online tools and services to GetResponse. Almost all the big apps are supported.
Does GetResponse have a mobile app?
Yes, they provide a mobile apps. Mobile App from GetResponse On iOS and Android, you can complete all of your tasks on the go. While you're on the move, keep an eye on your campaigns, send emails, collect leads, and keep track of your analytics.
Click here to start with GetResponse
Omnisend is an email & SMS marketing automation platform that makes it easy for eCommerce brands to build customer loyalty and get more sales.
Omnisend helps brands cover their entire eCommerce marketing funnel, from subscriber list-building to conversion and finally lifelong customer loyalty.
Its features include popups, landing pages, and signup forms, an easy-to-use email builder, powerful automation, and segmentation that comes preloaded with loads of templates for an easier start.
What are the main features of constant contact?
Here are some of the most exciting and useful features of constant contact:
Ready-made templates for signup forms, emails, and segmentation presets
Easy-to-use drag & drop email and form builders
Easily edit images inside Omnisend's new Email Builder
Powerful automation workflows that help you sell while you sleep
Sophisticated segmentation for hyper-targeted, personalized messaging
In-depth analytics and performance reporting
Does Omnisend have a free plan?
Yes, Omnisend has a completely free plan. Because Omnisend is completely focused on eCommerce, the free plan is best for newer or smaller businesses or medium-to-larger businesses who want to try out Omnisend before buying a plan.
The free plan allows up to 500 emails per month sent to 250 contacts. It has no feature limitations, so you can try out everything Omnisend has to offer, all for free.
Omnisend has two paid plans—Standard and Pro. Standard starts from $16/month and is great for brands only wanting to use email, while the Pro plan starts from $59/month, with unlimited email and free SMS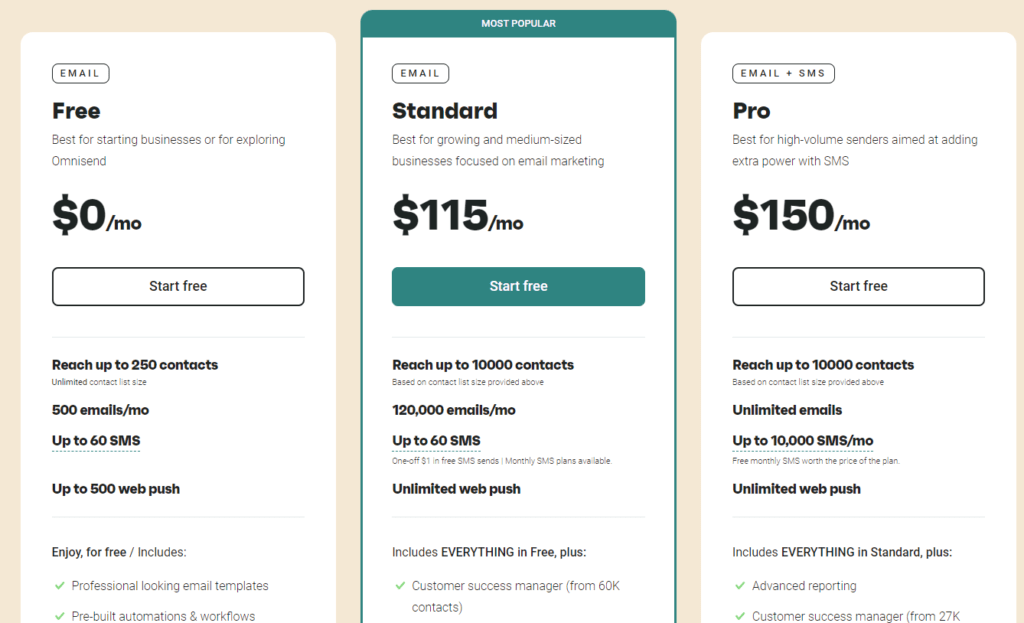 What type of support does Omnisend provide?
Omnisend has award-winning customer support that's available 24/7, so Omnisend clients can always get the help they need when they need it.
They also have learning resources to get started with email marketing.
What type of integration does Omnisend provide?
Omnisend has more than 100 app integrations, including Facebook Leads, Zapier, Yotpo, ShipStation, and more to help you operate and market your eCommerce business.
Does Omnisend have a mobile app?
No, they don't have a mobile app.
CLICK HERE to get a free trial of Omnisend.
5. Mailchimp
Mailchimp is a one-stop email marketing solution. It helps its users to design newsletters, manage contacts and create email templates.
Mailchimp is one of the best email marketing services out there. The software accomplishes this by offering templates that are easy to use, templates that can be customized, delivering content that users will want to read, and by making it possible to have quality data with all of your contacts.
Main features of Mailchimp email service provider
Predesigned templates and drag‑and‑drop builder.
Store and manage all your images and files in Mailchimp's content studio
Automated email or customer journey tool
Real-time analytics
Personalized transactional emails
You can connect your online store to Mailchimp
Does Mailchimp have a free plan?
Yes, they provide a completely free plan. Furthermore, among freelancers, consultants, and small enterprises, MailChimp's free plan is the most preferred option.
It's offers free up to 2000 subscribers, which means it's affordable to start with. You can use Mailchimp to email blast your existing customers, as well as build an email list from scratch.
You'll also get the following benefits in the free plan:
email support for 30 days
marketing calendar
250+ app integrations
surveys
Mobile app
Creative assistant
When you're first getting started, a free subscription is a smart option, and once you've built up a subscriber base, you may upgrade to a premium plan.
If you already have a list of customers, though, any paid subscription is a good choice.
What are the paid plans of Mailchimp?
Mailchimp has three paid plans (premium, standard and essential).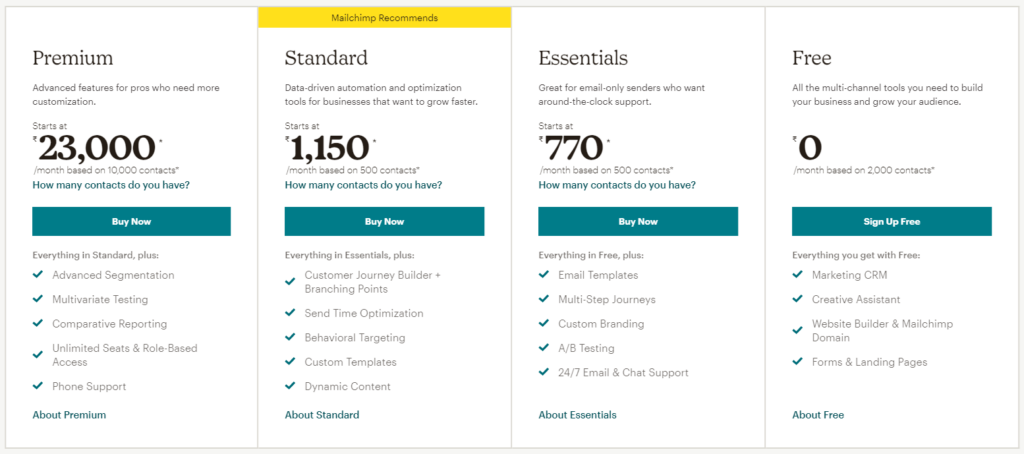 What type of support does Mailchimp provide?
They have learning resources and community resources to get started with email marketing.
For free users, they have a knowledge base. For paid customers, they provide email support.
What type of Integration does Mailchimp provide?
Mailchimp supports 250+ app integrations. It includes various apps from payment integration services, CMS, customer support, developer tools, Social media apps, survey apps, design apps, etc.
Does Mailchimp have a mobile app?
Yes, MailChimp has both an iOS app and an Android app.
CLICK HERE to get started with Mailchimp
In a Nutshell
One of the most efficient ways to build your business is through email marketing. Did you know that only 16% of email recipients unsubscribe? That means that even if they have signed up for a service in the hopes of receiving fewer promotional messages, more than half of your recipients will still open your emails.
In fact, a large majority of individuals (83 percent) said they prefer companies to sell their products and services via email.
All businesses must be able to communicate effectively with their customers, especially in this day and age when enterprises are competing for customers' attention.
Small businesses can use email marketing to send out reminders, notifications, updates, discounts, coupons, advice, newsletters, and just about anything else that will drive people to their store or direct customers to the solutions they need.
What next?
I've often been getting some emails from small business owners who are asking for email marketing tips. They have a hazy idea, but they don't know where to begin.
If you are new to email marketing and have no idea where to start, then start here: Email marketing for small business.
This article may be useful if you want to establish a thorough digital marketing campaign for your small business. Get it here: Digital Marketing for Small Businesses is a must-read.
Also, here are my recommended digital marketing tools & resources for small businesses
If you want me to assist you or if you are having any challenges with your digital marketing, then reach out to me here.
Additionally, if you want to know some useful tips for email marketing. You can start with the following books.
Affiliate Disclosure: I only recommend products that I've used previously, or I would use myself, and all opinions expressed here are my own. This post may contain affiliate links that, at no additional cost to you, I may earn a small commission if you make a purchase using those links. It helps me keep this blog alive. Thanks!