8 Best Social Media Marketing Tips For More Engagements and Traffic
In 2020, an estimated 3.6 billion people were using social media worldwide, a number projected to increase to almost 4.41 billion in 2025.
With this many people using Social media it is crucial for any business to stay updated on social media platforms for brand awareness, gaining more traffic, and eventually increasing the sales.
If this is something that interests you then let's explore more on social media marketing. In this blog post, I am going to tell you 8 best social media marketing tips that actually worked for my clients and I'm sure it can work for you as well.
But, Before diving into the topic let's understand a few things.
What is Social Media Marketing?
Social media marketing (SMM) is the use of social media websites and social networks platforms to market a company's products and services.
Social media marketing provides companies with a way to reach new audiences, engage with existing customers, and promote their desired business goal.
What are the Benefits of Social Media Marketing?
Social media marketing helps your brand in many ways. Let me tell you a few advantages you can have over your competitors if you implement a successful strategy.
Brand Awareness
More Inbound Traffic
Improved Search Engine Rankings
Higher Conversion Rates
Better Customer Satisfaction
Improved brand loyalty
More brand authority.
Cost-effective
Gain Marketplace insights
Thought leadership
Now let's discuss the tips you can practice to gain more out of your strategy.
Social Media Marketing Tips to Increase Brand Awareness, Engagements, And Traffic
Define Your Goal
Understand Your Target Audience
Choose your platform wisely
Create an awesome game plan for social media marketing
Create and set up a content calendar
Use the power of tools
Use the art of storytelling
Make your posts more humanized
I am going to explore each of these points in some detail so that you can understand the importance of it.
Social media networks keep growing year after year. So, having and implementing an effective social media marketing strategy is essential. Otherwise, you will lose customers and that will eventually affect your business.
1. Define Your Goal
"Focus on the right message for the right people at the right time." – Russell Glass
Well, how you can measure the success of your campaign if you don't have any goal?
It is important to set a goal and then build a strategy around it.
Your goal should be,
Specific
Practical
Attentive
Measurable
What Are The Different Social Media Marketing Goals?
Here are some of the marketing goals when it comes to social media.
Brand Awareness
Enhance Customer/Public Relations
Increase brand engagements
Build a community of Advocates
Increase traffic to your website or landing pages
Effective social customer service
Driving leads and sales.
It is always better to pen down the things you want to achieve out of any campaign.
2. Understand Your Target Audience
Now that you have a goal in your mind you can connect with your target audience. But before that, you have to do some study to figure out who your target audience is.
You can create your target audience's buyer personas. Buyers persona can help you while the content creation.
Figure out your audience's interests, needs, and pain points. You also need to understand where and what your audience and engaging with.
You need to figure out who your target demographic is and what social networks they use.
Here is an example of Audience demographics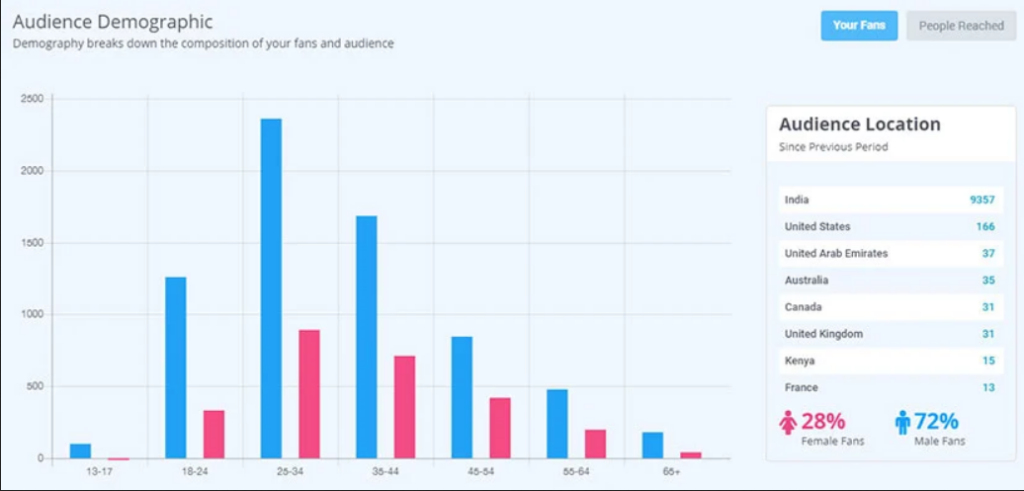 3. Choose Your Platform Wisely
You don't have to be present on each platform. Choose the platform wisely. Check out your competitor what platform they are using what platform is bringing more engagement for them.
Focus on few platforms and bring in the quality content.
It is the quality of content that matters rather than the quantity of content.
Also, it is advised that prefer the platforms which your target audience is already using.
4. Create An Awesome Game Plan For Social Media Marketing
A good social media strategy is the key to turn your vision into reality, it is to turn your visitors into your customers.
While you are preparing your strategy you should consider which platform to post on and make sure your content should be appealing for your target audience and your content should be aligned with your goal.
Here are few things to help you out
Make a list of events, special days, and festivals that matter for your business and your customers.
Give your customers a unified experience with a specific theme and stick with it.
Look for hashtags for different platforms.
Make sure it covers the features and campaigns of your primary event
5. Create And Set Up a Content Calendar
Having a content calendar in hand can save you a lot of time. without a content calendar, you will spend most of your time brainstorming new ideas to post.
You can use content calendar tools to plan your content for the next months it is always better to plan your content.
The content calendar also help you improve your content distribution and also analyze what exactly going on with your social media marketing.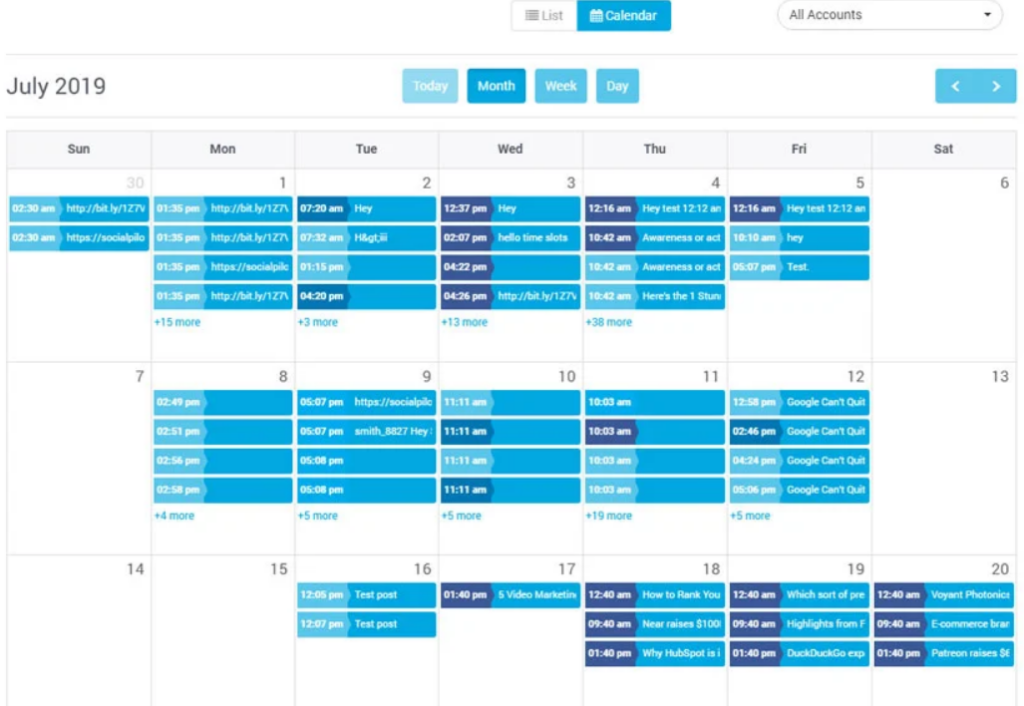 You can find many social media calendar templates online that you can download and put in your next month's content plan in it and stick with it.
Make sure to add events festivals in the in the Content plan.
6. Use the Power Of Tools
Imagine being on a different platform creating a different post for a day sometimes some platform requires three posts a day with three different contexts, a different design that is a hell lot of work.
Every social media marketer out there is using social media marketing tools. These are special tools for social media marketing which make your life much easier it makes posting the content much faster and you can schedule when you want to post the content.
Some social media marketing tools come with inbuilt analytics so you can analyze what exactly happening with your content who are interacting with it how your content is performing.
Here is a list of some of the social media marketing tools that you can use.
Below is a example dashboard from SocialPilot.
7. Use The Art Of Storytelling
Don't bore your followers with the same old fashioned content style. What I mean is mix up the contents.
Let's take the example of Facebook. Don't just go on posting the pictures of your product all the time. Write a story about your product that makes people read more about it.
Mix your story with pictures, texts, videos, and graphics. Make it appealing.
People don't want to see your product picture all the time they want to know the story behind it. They want to know the experience after using your product.
So less promotion and more stories. For example watch the video below from Airbnb.
8. Make Your Posts More Humanized
Make your post interesting. In this digital world what we miss is emotions. try to connect emotionally with your audience to make your post more humanize.
What I mean by this is to show what is going on with you. Put some behind the scene videos on your social platforms.
Be transparent show your office, show your employees stories, any event going on in your office in-short show humans behind your brand.
It will bring trust to your audience.
Bottom line
An effective social media marketing strategy is an essential part of your overall marketing plan, and using unconventional ways to interact with your audience is what will allow you to improve your outreach.
The social media strategy is an essential part of your overall marketing plan. You gotta keep looking for new ways you can reach our and interact with your customers.
Every business is unique and its customer base is different. You have to figure out what best fits in your approach. What kind of content works best with your audience.
Once you understand that people are liking your content and are loving to interact then that is the signal for you to produce more of such content.
Let me know how useful these tips have been for you. If you enjoyed reading this, please share your experiences and insights through comments.
If you are looking for a Social media marketing expert then you can connect with me over here. I would love to understand your requirement and work with you.
Thank you for reading. Have a nice time 🙂